Tag Archives:
conscious living
A Conversation That Will Heal the World by Natalie Kling

My dearest women,
Are you hearing the call? Are you feeling the urgency? Is your heart pounding with the anticipation of a major shift?
You are indeed being called to the most important task of you life.
You are being called to recognize that the mayhem and insanity of our world, can be healed by you.
If we are to see peace in our lifetimes, then we best get busy recognizing the greatness within ourselves. We ARE the ones we've been waiting for. It is time to reach into the depths of our hearts and stand for the love, the compassion, the creativity, the wisdom and the fearlessness that is already there. It is time to look in the mirror and see the goddess that knows enough, has studied enough, has experienced enough to say, "Enough!"
YOU are the leader that will bring us out of despair. You are the powerhouse, the healer, the inspiration we need to come together. You must take a stand so that the women around you will have the courage to stand up too.
The only problem with the world is the problem within you and me that makes us think we are not enough. Every atrocity at every level is because somebody has forgotten who they are. They believe the doubts and the fears within themselves and so they take down the ones around them.
We do it, too, everyday, in smaller, perhaps more passive ways. And everyday we risk the possibilities being expressed in another because we are convincing people that we are not the most brilliant, gorgeous, intelligent, creative beings on the planet, and neither are they.
Wrong! We ARE in fact full of light and joy and unbridled passion and we know it. So live it. Be it. Exemplify it. Live as if everything you do and say is God speaking to God. Infuse love into every dull and fascinating moment of your life.
But, you say, there are good reasons to be upset, unhappy, depressed, frustrated, tired, sick, afraid. I know. Stand up ANYWAY! We are not being called to be perfect, or unscathed. We are being called to stand up with all our flaws and scars and vulnerabilities and failures and mistakes, because we know that these are necessary to be whole, to be complete, to be real, to be a strong woman who is ready to let go.
It's not a time to count our losses. We've done that. It's time to believe that we are more than all that. So much more. That we have access to all the healing, all the wisdom, all the love and all the comfort we need. We must commit to whatever practices will get us there. And get there! Fast!
When we stand for our light and the power we have to love and forgive and create, then we stand for that same power in each other. When we stand united in our greatness and possibility dear sisters, then we stand for our men, and for our children to do the same. And when we stand for long enough, with enough of our sisters and brothers and humanity, then we can have a new conversation. A conversation worth having. A conversation that will give us the ride of our lives, that will fill us with the joy, the freedom, and the deep fulfillment we've been seeking. A conversation that will heal the world.
With great love,
7 Questions to Spot-check Your Spiritual Alignment
by "Mama" Wendy Silvers, founder of Million Mamas Movement

Here are 7 questions to ask yourself when you're wondering whether what you're saying and doing is "spiritual."
"Mama" Wendy
,
21 Days to Rock Yo Mama Self!
,
agape international spiritual center
,
Agape Licensed Spiritual Practitioner
,
ALSP
,
Balance for Busy Moms
,
Byron Katie
,
conscious living
,
empowerment
,
how can I help
,
huffington post
,
Lovolution
,
Lovolution Summit
,
million mamas movement
,
peace
,
Rock Yo Mama Self
,
RYMS
,
self-love
,
Spiritual Midwife
,
spirituality
,
The Work
,
transformation
,
Visions Doula
,
wendy silvers
[Top]
Beloved Million Mamas Movement Community,
Hear ye, Hear ye!! 
Please set your smartphone alarm, and mark your calendars, for Monday, December 2, 12 pm PST/ 3 pm EST so that you may participate in our last MMM Monthly Town Hall call of 2013!
You are so important! What you have to say matters! Share your voice, ideas, presence, suggestions, inspiration and questions! C'mon and rock yo bad self ~ Speak up, align your voice with the vision of all mamas and children thriving in your community and around the world! 
What does Global Motherhood mean to you? What is it that you would like to see shift and change for mamas? For children? For women? For families? What issues are your fired up about? What do we address first? Gather together in this virtual circle. I will lead us in a visioning process and dialogue about our next steps. It takes us joining together, tapping into the fierce and unstoppable mothering energy that is inherent within all of us to create a shift in our world!
Let us close out 2013 with powerful, activating intentions and set the field for a 2014 that sends the message far and wide that we, the beloved community of mothers and others, are taking a stand for a world where all mamas, children and families thrive.
Get more details, and signup, HERE:  http://millionmamasmovement.org/mmmtownhallcalls/
Peace and many blessings,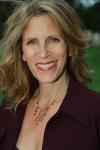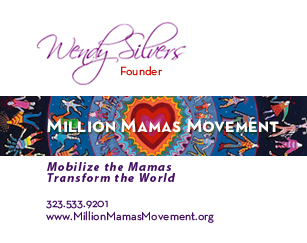 2013
,
2014
,
agape international spiritual center
,
children
,
Community
,
compassion
,
conscious living
,
divine mother energy
,
Divine Right Action
,
empowerment
,
every child safe
,
fierce
,
Gathering
,
global mothering
,
guilt free mothering
,
huffington post
,
mamas
,
Million
,
million mamas movement
,
movement
,
papas
,
parent
,
peace
,
Town Hall Call
,
Unity
,
virtual
,
wendy silvers
,
women
[Top]

"Wendy's commitment to bringing peace to our world through mothering is pure, true and divinely inspired. Her ability to lead women through evolutionary individual transformation will heal the planet."

Michael Bernard Beckwith, Founder
Agape International Spiritual Center